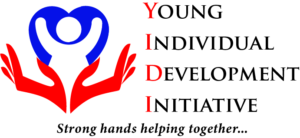 "We do what we do to spread the love of God to others".
YIDInitiative is focused on creating solutions as we work to empower youths, communities, leaders and governments worldwide. We are focused on health, education, arts and culture and business. These sections specifically targets active areas common to people and societies globally. We work to positively effect changes in these sections of society globally by working with peoples, corporate bodies, communities, NGOs and governments to achieve these goals.
Our Aims and Objectives Include;
To integrate self-reliant and long-term development of communities through various programs in health, education, arts and culture and business.
To enhance the cause of social and economic development of youths by initiating programs for income generation and spreading awareness about their fundamental and legal rights
To help Government and non-Government organizations for sustainability of projects through advocacy within the community and beyond.
List of partners
CHILD IS GOLD FOUNDATION
Aims and Objectives is to develop and empower children, orphans, vulnerable children, out of school children, internally displaced children, single mothers and women groups in the community through education, immunization, health, human rights awareness, capacity building, enlightenment campaigns against harmful practices/risky behaviors and the importance of voluntary participation in community service and National development.
SAMTEN NIG LTD. SOCIAL ENTERPRISE PROGRAM
Aims and Objectives is to create entrepreneurs off our products by becoming distributors
JESUS CHRIST IS THE ALMIGHTY GOD CHILDREN'S HOME
Aims and Objectives is to engage in the spiritual and educational development needs of Orphans and Destitute Children